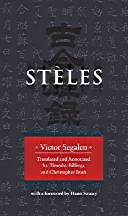 Stèles
Victor Segalen; Timothy Billings, trans.;
Christopher Bush, trans.; Haun Saussy, fwd.
Purchase Book
Return to Modernist Poetry Homepage
About the Author
VICTOR SEGALEN (1878–1919) was a French doctor, novelist, poet, literary theorist, sinologist, and amateur archaeologist (pictured).
About the Translators
TIMOTHY BILLINGS is an associate professor of English at Middlebury College.
CHRISTOPHER BUSH teaches comparative literature and humanities at
Princeton University.